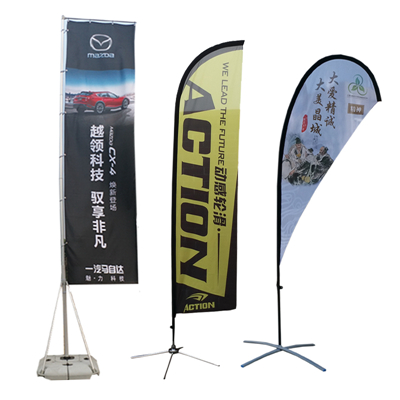 Teardrop flags are by far the most multipurpose and visible promotional device available in the market today.
Customized teardrop flags provide the benefit of demonstrating your company logo or perhaps a message regardless of any weather conditions because they are not influenced by wind flow in order to fly. The size, appearance as well as the model of teardrop flags make them extremely visible and because of the several base choices, they¡¯re suitable for inside or outside use.
Teardrop flags can make one of a kind, eye-catching results for inside and outdoor presentations, trade shows, store fronts, exclusive events¡­
Each and every Teardrop flag comes as a set. An entire set which includes
A solid yet transportable aluminum sectioned flexible type pole.
A base of your choosing
A digitally printed custom made flag.
A bag to transport the set which is Absolutely Free.

Teardrop flags are really easy to put together and they are totally interchangeable. Even when your requirements change from time to time, we are able to offer the flag only without the need of the actual pole. Therefore you can simply purchase a single pole set as well as numerous teardrop flags which means that you can easily change them as you require.
• The entire system can be packed into a small carry bag for convenient transport and can be set up in minutes.
• The ideal display solution for shop fronts, trade shows, road shows, small to large indoor and outdoor events.
• As standard our flying banners come complete with printed banner fabric, fibreglass rods and grass stake. Alternative base options are available to suit your requirement.
• You can also order the replacement banner fabric only, to allow you the flexibility to change your image/message at any time.
• Single Sided banner has approx.95% bleed-through of image onto the reverse side. Double Sided banner uses two pieces of material with a block out coating. The design is altered to fit the mirrored reverse shape